The Arts
We began with an art room and grew to a full-scale arts ministry.
The Art Room
The art room at Triune Mercy is a fun and brightly painted room, perfect for creativity. Most of the art work throughout our building was created in this room, and a piece is displayed beside the pulpit every Sunday.
Art Room Hours:
Saturday 9 a.m. - Noon
Sunday 1 p.m. - 3:30 p.m.
Wednesday 9 a.m - Noon
  Playback Cafe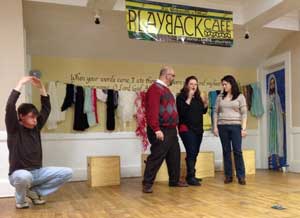 Dr. Dale Savidge, theater department chair at North Greenville University, founded our Playback Café. The homeless tell their stories, and trained community actors "play them back." It is our attempt to address a common feeling among the homeless – that they are "looked right through." For performance times, call Linda Hanna at 233-8020, ext. 120.