Volunteer Opportunities
Triune Mercy Center is a network of individuals, who, just like you, want to put their faith into action.
We couldn't operate without our volunteers who buy, cook and serve meals; provide legal aid and eye screenings; host the art room, and serve as Support Circle volunteers for those who want to emerge from poverty.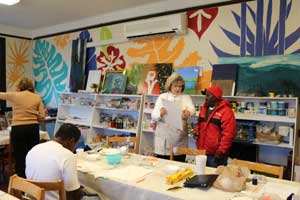 To start, join us for Sunday worship at 11 a.m., then stay for lunch. Or, if you have a group, you may want to start with a Back Yard Mission Day, which provides an overview of our operation and a look at the homeless community that surrounds the church.
You can also get on board by joining our Facebook page.
If you would like to volunteer or would like more information on a specific opportunity, contact Linda Hanna at 864-233-8020, ext. 120.